---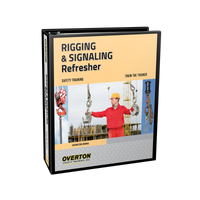 Rigging and Signaling for Cranes Refresher - Trainer Kit
OVERTON Safety Training
The Review Training and Materials provided for this 3 hour Rigging and Signaling Refresher is designed to assist employers in complying with the Refresher training and written testing requirements for previously "qualified riggers", and "qualified signal persons", as per selected state construction crane codes and regulations. This program is will NOT meet the requirements for initial Rigger or Signalperson Training. 
Refresher Review Topics include:
Core Topic Refresher Review (workers, riggers, signal persons):

Responsibilities

Hazards of working around craning

Mandatory powerline clearances and rules

Use of tag lines

Load weight and COG

Rigging Refresher Review (selection, inspection, and use):




Rigging hooks, shackles, eye bolts, swivel rings, and turnbuckles

Slings (wire rope, chain, web, round, and rope)

Horizontal angle loading and hitches

Lifting beams/bars, chain falls and lever hoists

Multiple lift rigging

Signaling/Spotting Refresher Review:

Communication requirements, positioning

Spotting for hazard clearances

Methods, meanings, and hazards created by signals

Hand signaling, voice signaling, audible signaling
Please note: This program and training materials is designed for Qualification Refresher training only. Please view this section if you are looking for an initial Rigging and Signaling Qualification training course or this section if looking for a preparatory training course for National Certification or National Certification Refresher.
Trainer kit includes:
Trainer Kit:

Instructor's binder

Trainer's tote bag

Training tips

Color keyed script and grading keys

PowerPoint training presentations (on USB Drive)

(20) 36 page student handbooks

Trainer's tote bag

Trainer USB Drive includes:

Sectional student written knowledge checks, 40 Questions total

Curriculum PowerPoint presentation

Practical Rigging Inspection Refresher PowerPoint and checklist/form

Practical hand and voice signaling Refresher PowerPoint and demonstration checklist/form

Rigger and Signal Person Refresher Training ID card template with 20 protective card sleeves

Required forms for record keeping
Additional student handbooks can be purchased in packs of 10.