---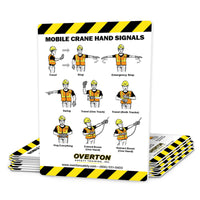 Mobile Crane Safety Hand Signal Cards (50 pk)
OVERTON Safety Training
These convenient double-sided pocket sized cards cover ANSI approved Mobile Crane Hand Signals.
Our Mobile Crane Hand Signal Cards come in a pack of 50 cards. Cards are made from durable plastic and are small enough to fit in a wallet or pocket.
The following signals are covered:
Travel
Stop
Emergency Stop
Swing
Travel (One track)
Travel (Both tracks)
Dog Everything
Extend Boom (One Hand)
Retract Boom (One Hand)
Hoist Slowly
Use Main Hoist
Hoist Load
Lower Load
Use Auxillary
Extend Boom
Retract Boom
Raise Boom
Lower Boom
Lower the Boom/Raise the Load
Raise the Boom/Lower the Load
Covers Mobile Cranes and Boom Trucks.
This item is shipped via USPS unless expedited shipment is selected during checkout.